TestingTime and Lookback have joined forces to bring you a seamless user research experience.
The very reason why both our companies get to work every morning is to help you understand your customers, so you can build better products. Naturally, we partnered up to combine our participant recruitment service with Lookbacks state of the art user testing platform, into one seamless experience.
More about recruiting:
How it works in a nutshell
With TestingTime you can define your test user profile via our online-tool and we make sure, the right participants are at the right place, at the right time (and we take care of the incentives too). Once we invited your users, you can use Lookback to record, analyze, and share the results of your research study. A match made in heaven!
But let me show you a step-by-step guide on how to work with TestingTime and Lookback as an all-in-one solution for your user research:
Guide: How TestingTime and Lookback integrate
Step 1: Setup a new project in Lookback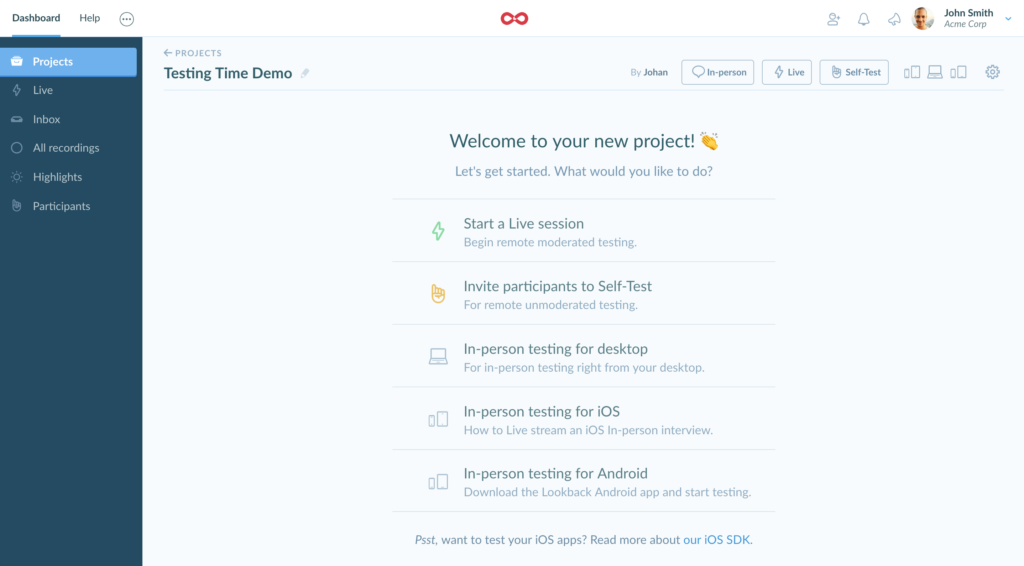 Create a new project on the Lookback dashboard. You should then be presented with a screen similar to the above.
Step 2: Copy Participants Invite Link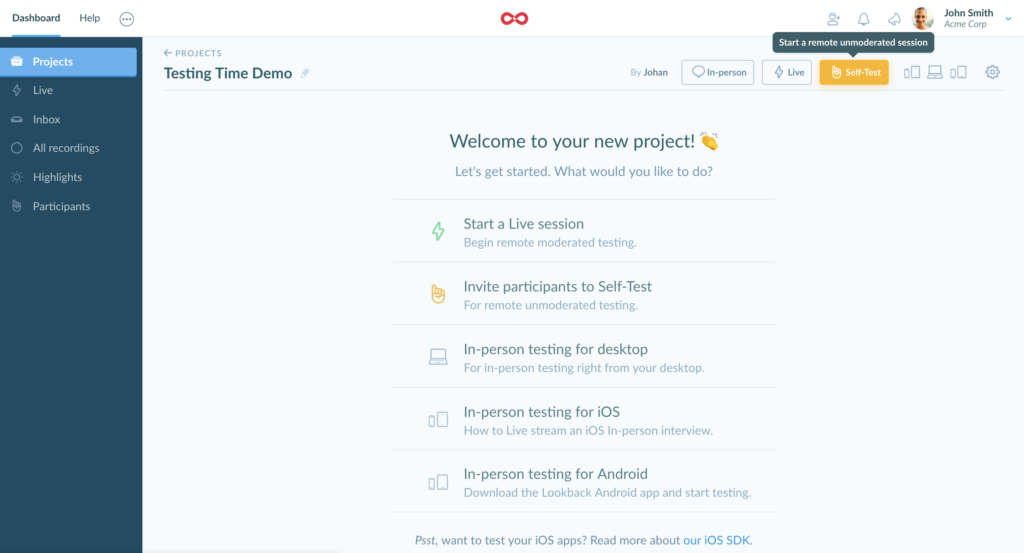 Next, you click on "Self-Test" on the upper right of your dashboard.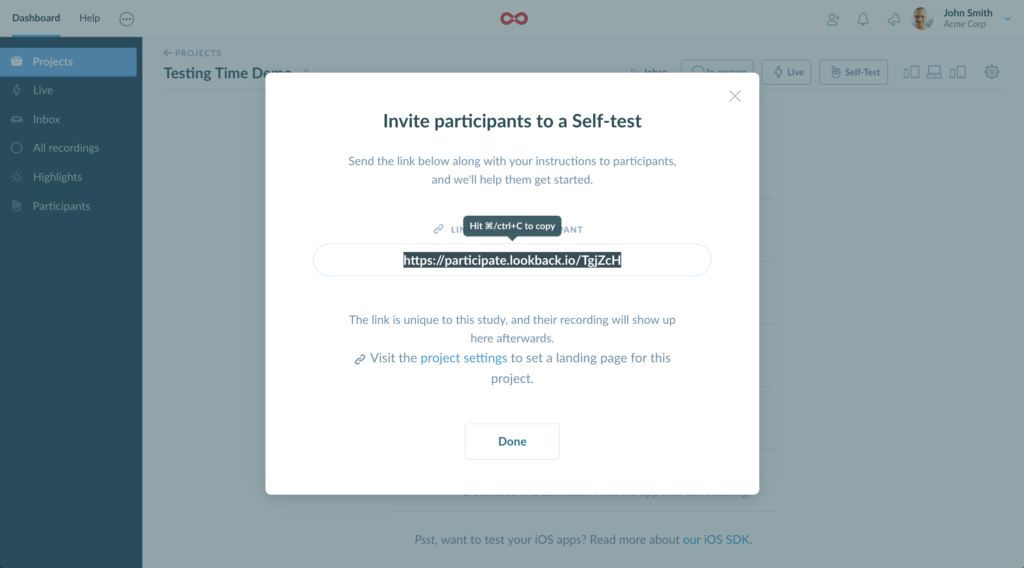 You will be presented with the above popup. Please copy the full participant link.
Step 3: Go over to TestingTime and define the target group for your next study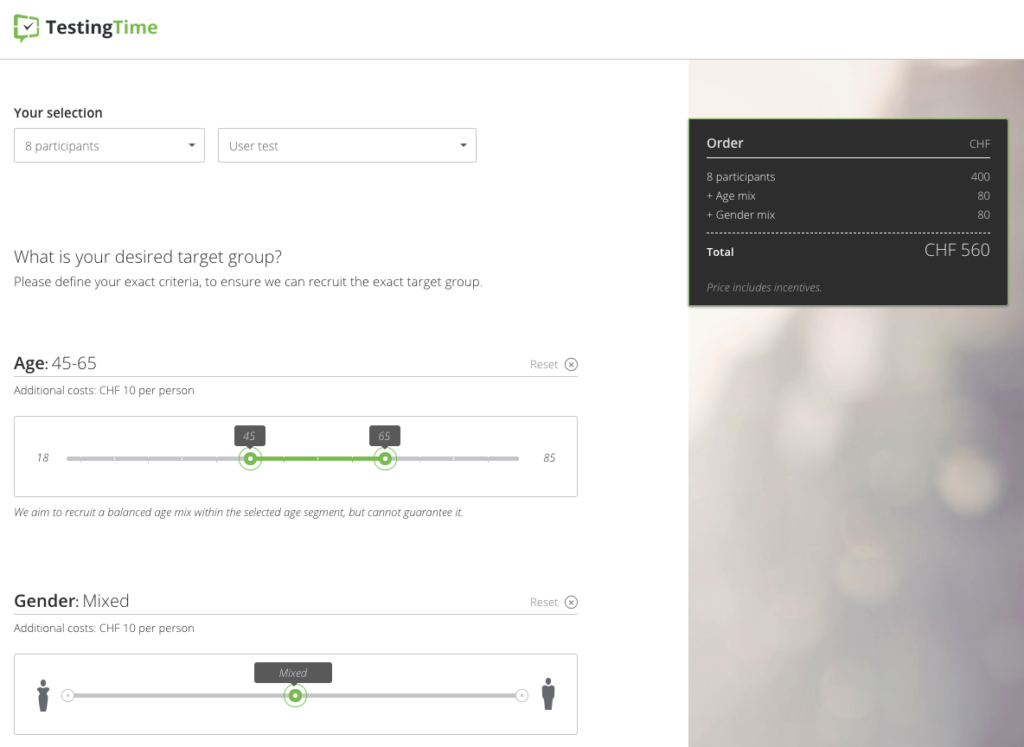 Head over to our online order tool and define the number of participants you need, as well as the study type. Next, you can give us additional information on the age, gender, language, location, device skills and any additional study criteria that you need to be fulfilled.
Click "Next".
Step 4: Choose the type of remote study, paste Lookback participant-invite link and click order.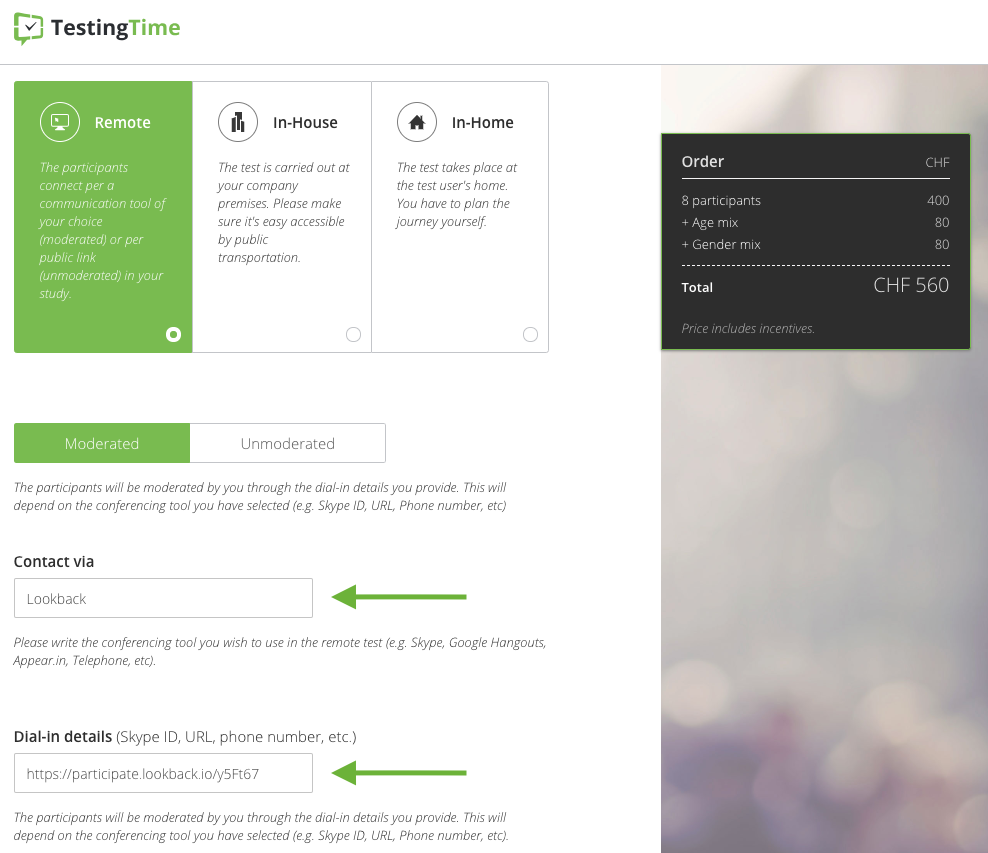 On the second page, you then have to enter "Lookback" into the "Contact via" field, as well as paste Lookback's invite-link into the "Dial-in details" field.
This will ensure that we share this link automatically with all participants, whom we are inviting to your research study project.
If you click next, you land on the third and last page of the recruiting setup, where you can define the date and time slots for your study. Congrats, you are ready to send us your request for the pre-screening process.
Step 5: Time for your user test!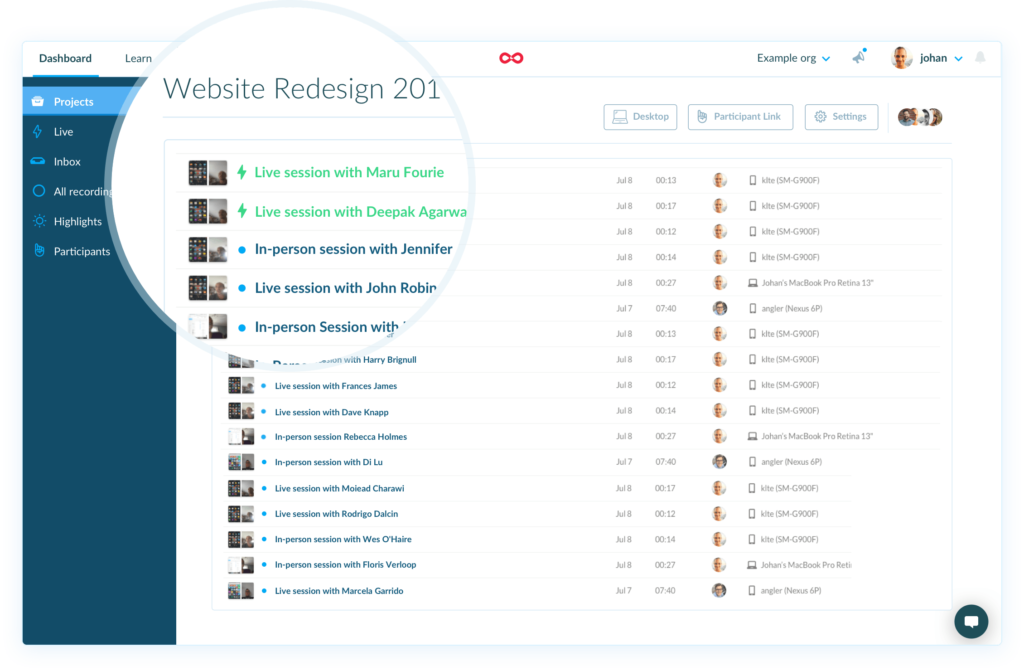 After you sent us the order, we will invite fitting participants into your test user lineup and send them a the Lookback link via email. To the predefined time slot, each user can then click on the participation link and will end up in your current research session.
That's it. You did it. ?
More about recruiting:
What's in it for you
We are certain, that this will decrease your study coordination efforts and increase your research productivity by a good chunk. Meaning you can spend more time on what you do best: Designing, executing and analyzing your research studies.