Table of contents
1. Turning visions into realities
2. The RedBox phase—where it all begins
3. The BlueBox phase—leveling up with the BlueBox KICKBOOK
4. The GoldBox phase—creating their dream job
1. Turning visions into realities
What began as a side project within Switzerland's leading telecommunications provider is now a fully independent start-up with 20+ corporate partners, including Implenia, Switzerland Tourism and Siemens Energy. rready Kickbox gives any intrapreneur the opportunity to make their vision a reality. They begin by validating their idea in the RedBox phase before gaining proof of concept in the BlueBox phase. If they make it to the GoldBox stage, they can work on their project full-time—either within the company or as a spin-out.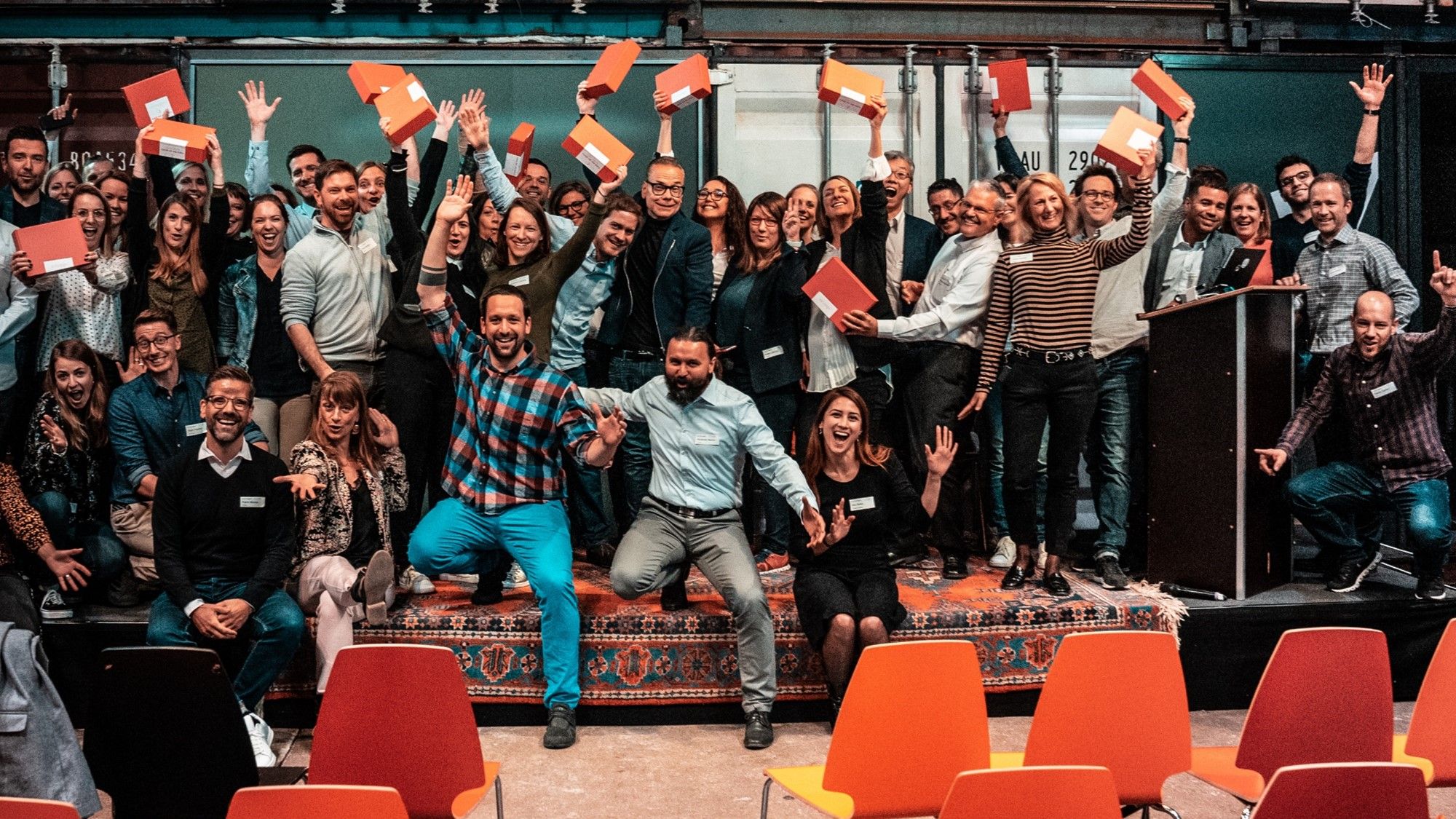 2. The RedBox phase—where it all begins
When intrapreneurs begin the Kickbox process, they're given a physical RedBox with the KICKBOOK to guide them through it. This first stage is about validating an existing idea and learning key methods for the innovation process, such as lean start-up and agile thinking. With the help of the KICKBOOK, the intrapreneurs assess whether their idea has potential or not. The KICKBOOK is particularly important in this stage, as most intrapreneurs are starting from scratch. We wrote it specifically for the RedBox phase. People love it because it gave them structure when validating their idea.
2.1 Continuous optimisation
We've worked hard to iterate it continuously over the past five years, reworking it with intrapreneurs from across the board. It now gives them the perfect framework for idea validation. They speak to potential customers to gather real data, critically analyse their idea, and make any necessary changes to the concept. We also provide support on our online platform and in several coaching sessions.
2.2 Providing financial and time resources
At this point, intrapreneurs are given a small budget of 1000 CHF and allocated 20% of their working hours for their Kickbox project. Since the stakes are relatively low here, companies can provide this opportunity to many more employees than conventional innovation programs. This opens up the field and leads to a much broader spectrum of ideas coming in. At the end of this phase, they have to pitch their idea to potential sponsors within the company to get funding to move on to the BlueBox phase. That's where things really get going.
3. The BlueBox phase—leveling up with the BlueBox KICKBOOK
The BlueBox phase begins with a validated idea. The intrapreneurs have already established a need for their concept, and this phase is about drilling down on the concept and fleshing it out. So, the focus of the BlueBox is establishing a real-life proof of concept. This takes four aspects into account.
Desirability: Do people want it?

Viability: Is there a business model behind it, and will people pay for it?

Feasibility: Can the product be made/the concept implemented? 

Future strategy: Is it a strategic fit for the company? 
Until recently, the BlueBox phase didn't have its own KICKBOOK but instead relied more on coaching sessions and online resources. But at some point, we realised that after their experience with the first KICKBOOK in the RedBox phase, participants were expecting to find a book when they opened the BlueBox. More and more intrapreneurs began asking for it. So, funnily enough, the "pressure" to write the BlueBox KICKBOOK came from the bottom up—from the intrapreneurs themselves.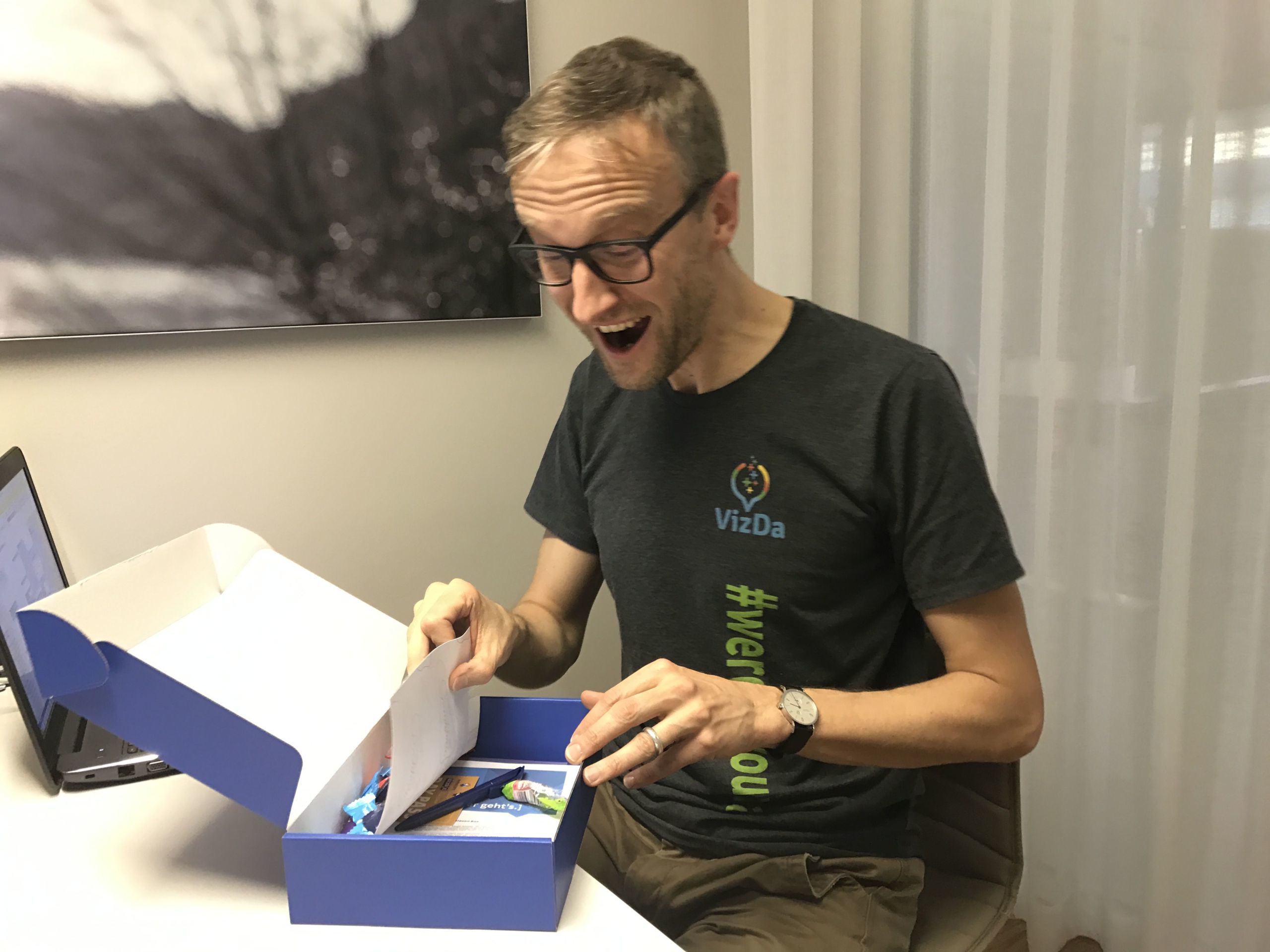 3.1 Continuous learning
As a team, we are constantly learning from the process—a little more with each Kickbox. When it came to the BlueBox phase and the BlueBox KICKBOOK, we simply had fewer cases to learn from, so the process took a little longer. For reference, at Swisscom, we have around 150 RedBoxes a year, but just 10 BlueBoxes. Once we had gained more experience with BlueBox cases, we could see the common patterns across the board, assess what kind of guidance the intrapreneurs need at this stage, and channel that knowledge into the BlueBox KICKBOOK.
3.2 User feedback across all industries
The BlueBox KICKBOOK is a culmination of all the experience we've gained over the years—running workshops, writing coaching manuals, getting feedback from BlueBox teams, iterating the BlueBox phase with our external coaches, etc. Furthermore, in contrast to the first KICKBOOK, we already had 20 companies from different industries working with us who were happy to test it out and give us their feedback. Because that's a huge challenge here, creating a methodology that works across a wide range of organisations and industries.
Based on our experience and feedback, we have now split the process of establishing a proof of concept up into three sub-stages. 
Preparation: The intrapreneur plans how they are going to carry out their proof of concept.

Implementation: Now, the intrapreneur generates the necessary data and—very importantly—iterates the idea. This sub-stage can take a few rounds because the proof of concept is not necessarily done in one go.

Evaluation: The data collected is analyzed and used to decide which step to take next.
3.3 Online content to cover it all
However, we do not want to take the intrapreneurs' autonomy away here, so we've provided a host of resources and options for them. After all, the BlueBox phase is much more individual than the RedBox phase because it's about getting to the core of the idea, and every idea is different. When writing the BlueBox KICKBOOK, the main challenge was packing everything because the range of needs in this phase is so much broader.
For this reason, intrapreneurs do not only receive a physical or interactive PDF in their BlueBox but also gain access to a wide range of online content within our software. This allows us to offer more resources than a physical book alone and enables us to stay up to date in the future as new methodologies arise and tools change and evolve. In this way, we can provide BlueBox intrapreneurs with a buffet of information, from which they can pick and choose what they need.
In line with this, we encourage BlueBox intrapreneurs to do a lot of self-assessment to assess their strengths and where they need more support. Based on that, they can then choose what they need from a library of methodologies, which we cherry-picked to include in the BlueBox KICKBOOK. There are so many different learning paths and learning personalities; this way, each intrapreneur can find their own way using the resources and guidance in the BlueBox KICKBOOK.
3.4 Focus on the right thing at the right moment
With the BlueBox KICKBOOK, we've also made a lot of implicit knowledge explicit. Until now, BlueBoxers have been guided through the BlueBox phase in coaching and training sessions. But with the BlueBox KICKBOOK, we've documented the process in a more structured way so that BlueBox intrapreneurs have something tangible to follow. This will allow them to go through the steps themselves and create a shared language when working with our coaches. The intention is to give the BlueBox intrapreneurs a guide to help them focus on the right thing at the right moment in the process. For example, in the BlueBox KICKBOOK, we've explicitly outlined four possible exit paths after the BlueBox—two for staying within the organisation and two for spinning out.
3.5 Support with the strategic skills
Another important aspect of the BlueBox KICKBOOK is providing support for the strategic side of the BlueBox phase. At this stage, the intrapreneurs are given significantly more resources than in the RedBox phase, and now the BlueBox KICKBOOK helps them manage that. On the one hand, they might start building up a team. So, we look at which skill sets are needed and where they can be found. On the other hand, with increased funding, there is often much more attention on the intrapreneur and their project, potentially making things more political. So, we've provided information and techniques for stakeholder management. We mustn't forget that intrapreneurs have great ideas and are often experts in their field, but this doesn't necessarily mean they can manage people or projects. 
3.6 Inclusivity and diversity
When it came to writing the BlueBox KICKBOOK, we were also very conscious of making it more inclusive. In the RedBox KICKBOOK, the mascot was named John R. Boxly, and most of the quotes came from male entrepreneurs such as Steve Jobs and Jeff Bezos. While this wasn't a conscious choice at the time, we did receive feedback on it and were keen to improve in the BlueBox KICKBOOK. This time around, we have Talisa J. Boxly as our mascot and have included quotes from female intrapreneurs from around the world. In this way, we hope to inspire a broader range of people to become Kickboxers. After all, bottom-up innovation is for everybody, and we want to reflect that.
4. The GoldBox phase—creating their dream job
As we move through the stages, the numbers go down, so only the best ideas go through to the GoldBox stage. Intrapreneurs have a validated idea and proof of concept and are ready to turn the idea into a business. With the BlueBox KICKBOOK our objective was to set the intrapreneurs up for the best shot at success here, including deciding which road to take in the GoldBox phase. There are three main routes for those who make the GoldBox.
Setting up their own business unit within their company where they are part of the team in the role of their choosing—they've created their dream job!

Passing the concept on to be implemented within their company but by another department or team.

A full spin-out from the company where they continue the adventure independently.
While not all intrapreneurs make it to this phase, companies still gain so much from each and every Kickbox project. Not only do their employees gain a wealth of new knowledge and skills, but this also contributes to cultivating an innovation culture within their company, which is essential to remain competitive as the world of work evolves—today and tomorrow.