Table of contents
1. Switch from on-site studies to remote
2. Legal aspects on the customer side
2.1 Consent of the test users before the test
2.2 Consent of the test users after the test
2.3 TestingTime's digital signature for test users
3. Legal aspects on TestingTime's side
1. Switch from on-site studies to remote
Due to COVID-19, remote usability testing is becoming increasingly popular as an alternative to studies at the office or at usability labs. On the one hand it excludes any germ transmission between interviewer and test person. On the other hand, you can set up those tests quickly and they allow you the recruitment of suitable candidates (country or language area-wide). Besides, as the organiser you don't have to worry about a physical test location or the catering for the test users. In this article you can learn more about the advantages and disadvantages of remote user testing.
2. Legal aspects on the customer side
As soon as you switch to remote studies, the question of what to do about NDAs and further necessary declarations of consent often arises when testing with Lookback & Co. We are often asked by customers whether we can provide a standard NDA template. Unfortunately, this is not possible. Our customers, their business models and the legal requirements differ way too much for a standard template which can be used by a broad majority.
Therefore, the question of the delivery of necessary consent documents remains. Of course you can send the usual forms to each test user by physical mail and ask them to return the signed papers BEFORE the test. This would be a safe solution. But who plans their user tests long enough in advance so that the delivery of the documents and the feared delay in response from the test users does not become an organisational problem? The only thing that is usually more realistic is therefore the "electronic signature". Or any agreement that replaces the physical signature.
2.1 Consent of the test users before the test
Rules and laws on electronic signatures have been in force for several years. You can find an overview here. Therefore, there are different forms and "levels of obligation", depending on the occasion and intended use. However, several of our customers who regularly carry out remote studies and have clarified corresponding legal issues for themselves, have agreed with their lawyers that the highest level of security is not required for the agreements on confidentiality and video recording. It is considered a binding agreement, which both parties accept as such. As a result, the following options are accepted and regularly used by legal professionals in companies that regularly recruit through us:
The test users confirm their acceptance of confidentiality and video recording simply by email.

The same confirmation by clicking on a checkbox ("tick").

Use of a software with which digital signatures are made (such as

HelloSign

,

Adobe Sign

, etc.).

Test users print the agreement, sign it by hand and send the customer a scan of it or a photo.
2.2 Consent of the test users after the test
All of the above mentioned possibilities naturally presuppose that the test users remember to do this little "homework" beforehand. However, if a test user forgets to confirm the necessary agreements before the session starts, this does not have to lead to a break-off. In such cases some customers use a fifth option: The interviewer asks the participant, while the test and video recording are already running, whether he or she agrees with video recording for internal purposes. If he or she agrees, the lawyers of these customers consider this to be a verbal contract, which is also already documented in sound and vision.
2.3 TestingTime's digital signature for test users
You can get documents signed very easily and completely digitally through our online order form. This could be, for example, a non-disclosure agreement, a user test recording agreement, or anything else. Simply activate the option "Document to be signed" in the "Add-ons" section of our order form. Afterwards, we integrate the document to be signed directly into our recruitment process. For this we use a third-party provider called Eversign. Each document will be legally signed and include the test user's full name, date, and electronic signature. Before the study starts you will get access to all signed documents in your order overview.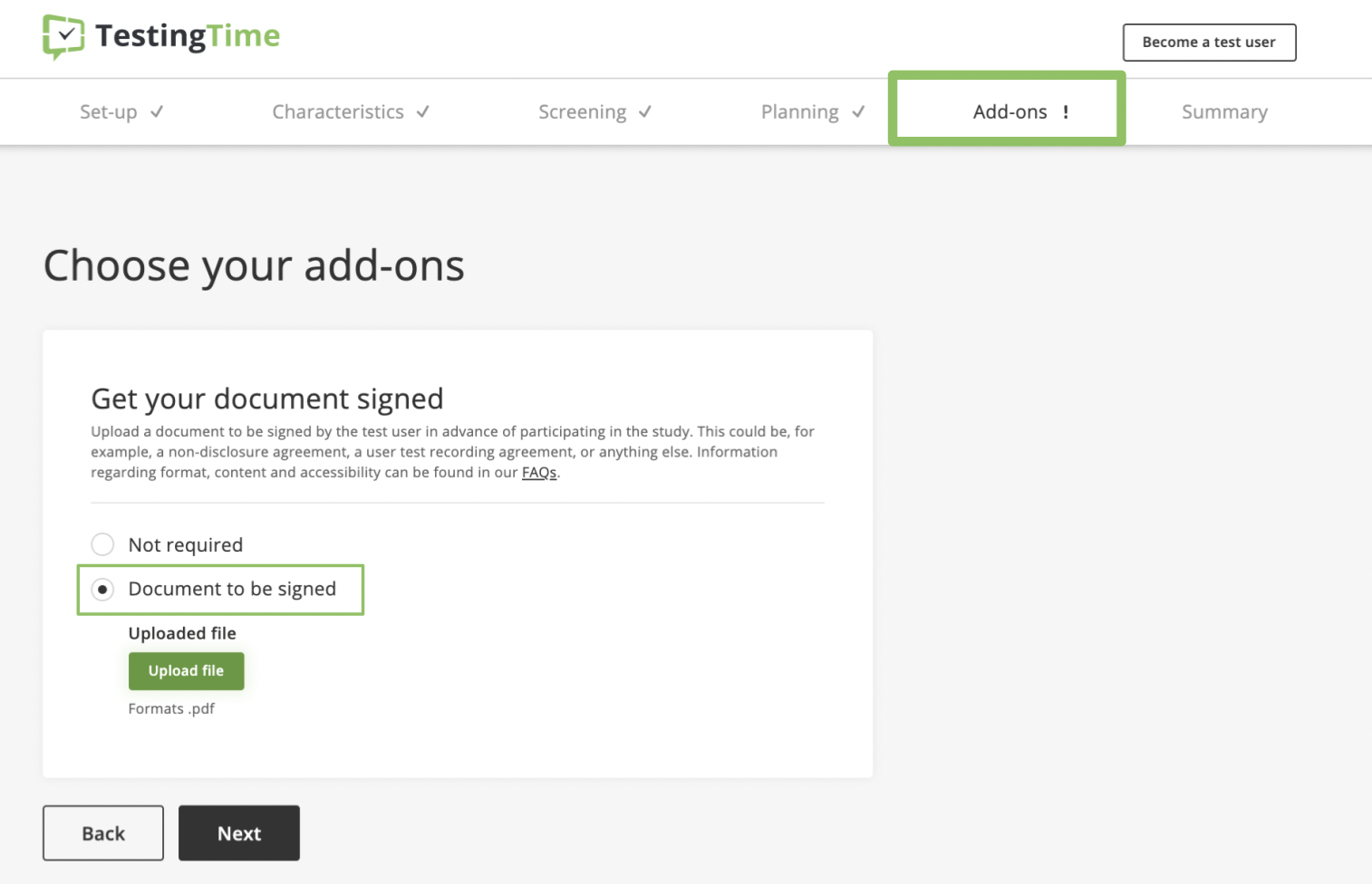 3. Legal aspects on TestingTime's side
In general, TestingTime is only the intermediary between its customers and the test users (see GTC). The test users agree to our terms of use when registering. Among other things, these terms clarify legal aspects such as the provision and the forwarding of personal data after the registration. In addition, we explain the general procedure of studies and the invitation to studies. We are fully compliant with the EU General Data Protection Regulation (GDPR) and expect the same from our customers. 
Issues such as confidentiality (as an NDA) and the consent to video recording for specific tests should always be settled directly by our customers. A GDPR-compliant template for an NDA can be found here. However, we are not legal experts. It is advisable to clarify with your internal or an external legal team what to do in case of doubt.