Table of contents
2. Tools for moderated remote studies
2.1 Lookback
2.2 Zoom
2.3 Google Meet
2.4 Whereby
2.5 Skype
2.6 RapidUsertests
2.6 Overview of tool features
3. Tools for unmoderated remote studies
3.1 Optimal Workshop
3.2 dscout
3.3 UsabilityHub
3.4 Hotjar
3.5 Usabilla
3.6 Loop11
3.7 RapidUsertests
1. Methodologies and tools
With the help of remote methods, UX Researchers can get real user feedback faster and cheaper. And there are two ways to do this: moderated or unmoderated remote user research. If you need help with deciding which method is the right one for your study, check out this article. 
When it comes to choosing a tool, today you have a wide range of options. There are so many tools out there to do remote studies that sometimes it's an overload of information. To keep track of the most useful tools, we've picked some which our customers use regularly and work seamlessly together with TestingTime.
2. Tools for moderated remote studies
Let's start with the most used method of remote research: moderated user test. It's commonly used for usability testing, user interviews and focus groups. It's no big surprise to see that the habits of most UX researchers are to stay the same. Even with all the studies switching from in-house to remote, guiding the user test with moderation is what our customers are looking for the most.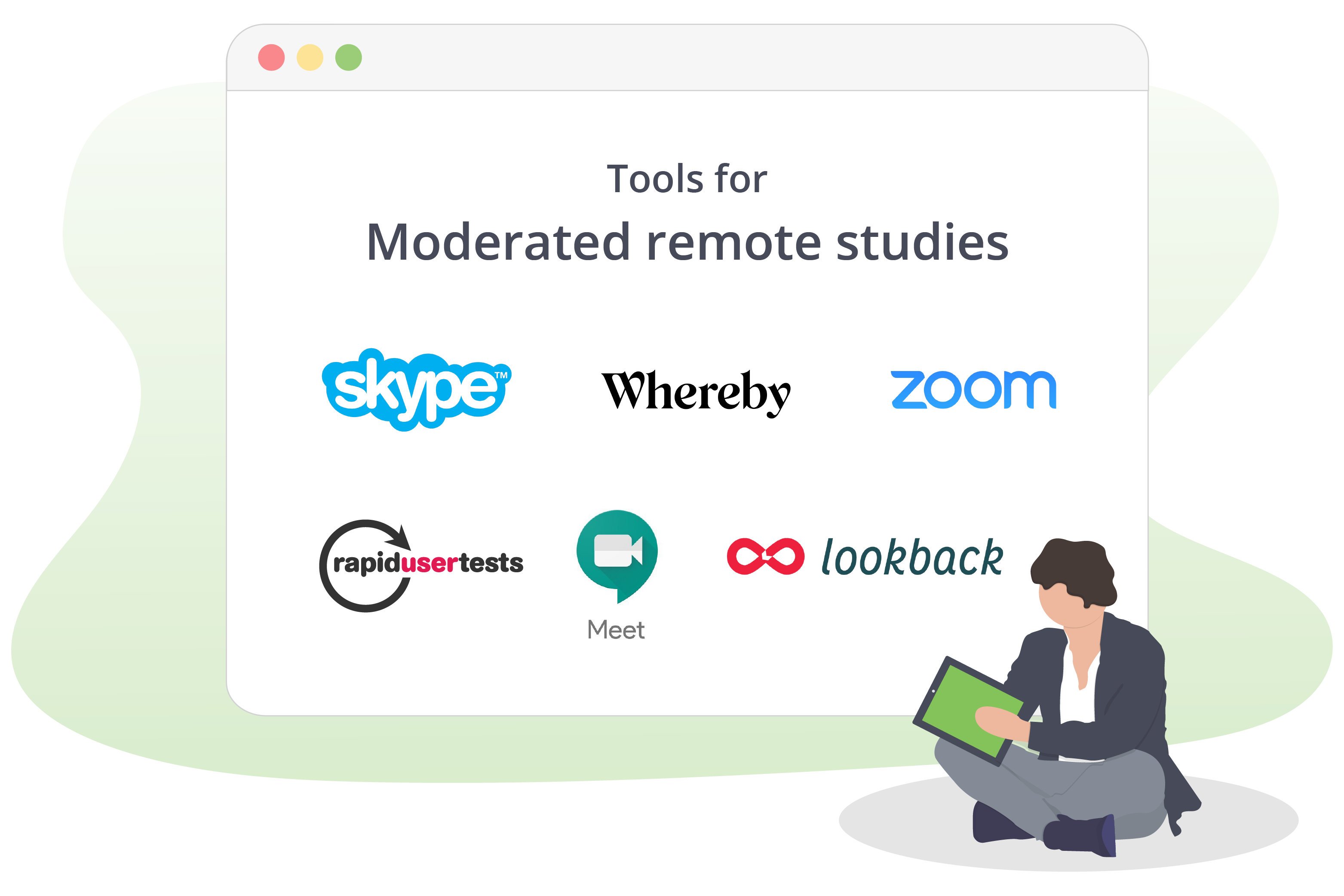 2.1 Lookback
Lookback works perfect for all business sizes. This cloud-based software has a rich set of features and records the user experience on all devices. The good thing about it is the focus on being solely a user research tool, so the usability is well-thought-out. What makes Lookback so special is that you can join the live tests as moderator or observer and speak to the users while they're exploring your design and ask questions or conduct an interview. The pricing starts at $ 49.00 per month. 
Check out our step-by-step guide to get started with Lookback and TestingTime.
2.2 Zoom
Zoom is the most stable video platform today, especially for bigger groups. It allows a high number of participants, it's affordable and offers many administrative controls. The recording option is also included and the videos can either be saved locally or in the cloud. Zoom Basic Plan can be used for free and if you want some more features you start at $ 14.99 per month. 
2.3 Google Meet
This article wouldn't be complete without mentioning Google and it's solution Hangouts Meet. You can easily share a link with your test users and give them quick access (mobile and desktop). It's very stable and has a clean and clear interface. It works very well for many researchers, especially with Android users. The tool is available for free for receiving and making calls and video conferencing.
2.4 Whereby
Whereby (anciently Appear.in) is a very easy video app that enables you to create a custom room by using a unique room name. It's simple to connect and very user friendly. You can host reliable video meetings, no downloads needed (browser-based) and no login for guests required. However, by using it extensively it works best on Google Chrome. So you might want to consider another tool if you have users with different browsers. It's free for up to four people and if you want to use it professionally it starts at a cost of $ 9.99 per month.
2.5 Skype
Skype is actually being used by a large majority of our customers'. It's a good solution for UX researchers who want a free tool and which is already installed by many test users. Unfortunately, they have recently reduced the resolution, which makes it a bit more difficult to show details on video calls. 
2.6 RapidUsertests
With RapidUsertests, live UX tests and interviews can be conducted in a specifically for this purpose developed tool. The moderator guides the test users through the test or interview in real time and can simultaneously take notes in the tool, which are linked to the respective passage in the recording. In this way, the most important findings can be quickly retrieved later. Both sides can share their screen. In addition, up to 30 viewers can participate in the test, and they can also take notes. A highlight video can be created from the recordings within the tool in no time at all, which can be shared with stakeholders via a link. Prices for moderated tests start at € 35 per test person.
2.7 Overview of tool features
Here you find a brief overview of some relevant features for your studies and the information which tools contain these features.
Lookback
Zoom
Meet
Whereby
Skype
Rapid-
Usertests
Usability testing
✔
✔
✔
✔
✔
✔
User interviews
(✔)
✔
✔
✔
✔
✔
Focus groups
✔
✔
✔
✔
✔
Moderator &
observer roles
✔
(✔)
✔
Time stamping &
note taking
✔
(✔)
Webinar
✔
Recording &
playback
✔
✔
✔
(✔)
Premium
✔
✔
Screen sharing
✔
✔
✔
✔
✔
✔
Remote control of
researcher desktop
✔
Smartphone
support
✔
✔
✔
✔
✔
✔
Test user
requires account
✔
Test user
requires app
Chrome
extension
✔
(Mobile
& iOS)
✔
Free
Free trial
Free trial
✔
✔
✔
3. Tools for unmoderated remote studies
Unmoderated research tools support a much wider selection of different study methods, both qualitative and quantitative. There are many platforms for unmoderated research studies and we're really spoiled for choice. At the same time, the research methods are less standardised which makes it harder to benchmark the results with other studies/tools. We're happy to help you find the right tool for you with our personal recommendations for unmoderated remote user research and some insights into our customers' favourites.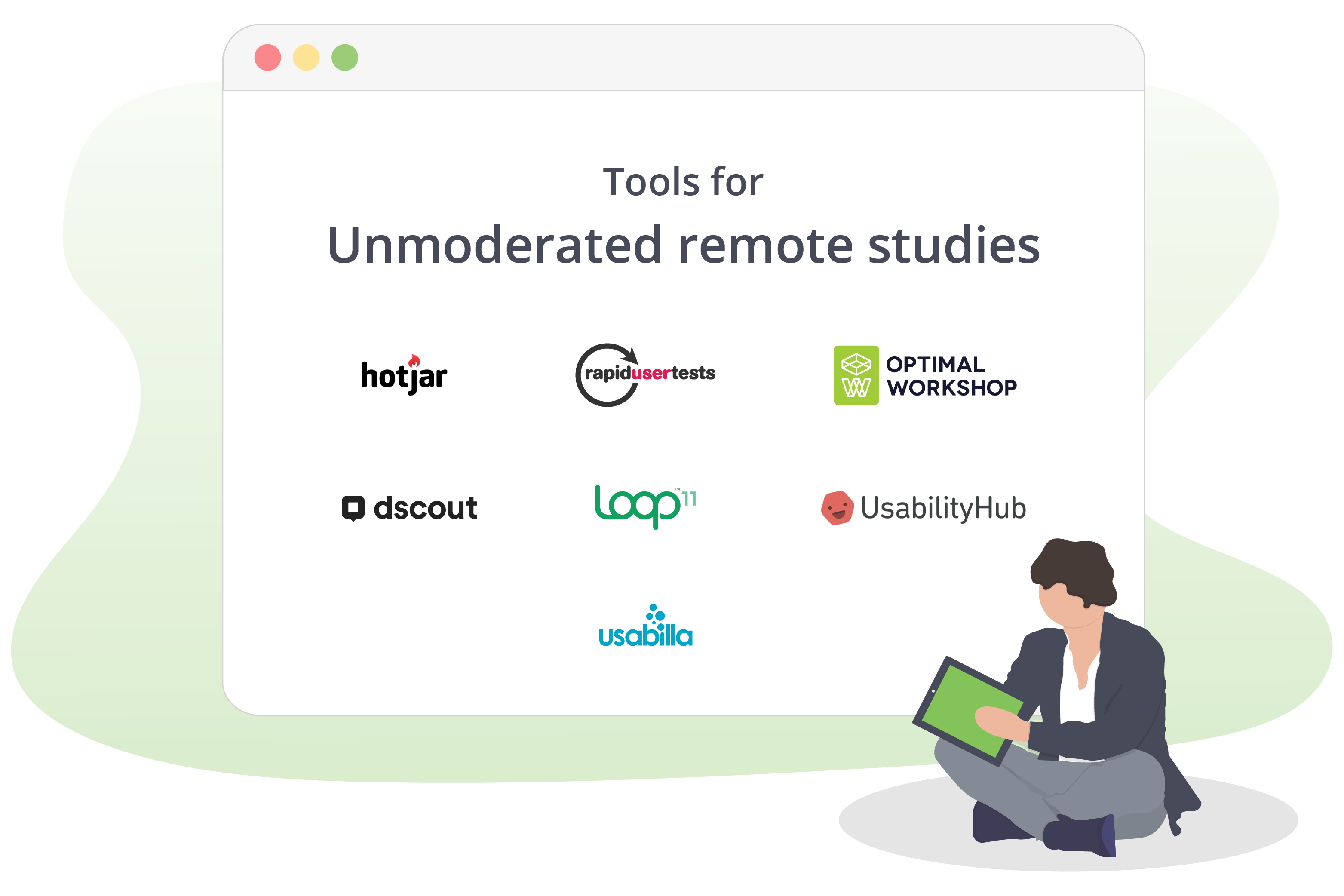 3.1 Optimal Workshop
Optimal Workshop comes with a suite of usability study tools (e.g. card sorting and tree testing) from which our customers use the online card sorting (OptimalSort) the most.  You set up your test, provide us with a tokenised link and we send it to the users while you watch your results come in. Optimal Workshop offers a free trial as well as flexible pricing and plans according to your needs.
3.2 dscout
dscout is the most used platform by our customers for diary studies. It captures current  behaviours and thoughts through mobile video, image, text, and survey feedback. You can check out here how our customer Zalando uses dscout for their diary studies. The pricing is based on two licensing options: annual subscription (custom priced) and project (pay-per-project). However, dscout also offers a free trial version.
3.3 UsabilityHub
UsabilityHub has some interesting test features like the five seconds test or preference based tests. It's designed for businesses of all sizes in eCommerce, IT, retail, and many more. This solution helps with open text analysis, CSV exports, etc. UsabilityHub has a free version. The basic package starts at $ 79.00 per month and per user.
3.4 Hotjar
Hotjar is well known for its user heat map on your website. It reveals the online behaviour of the test users by having them browse your site normally while hotjar records everything in the background from the live website. The tool really gives a good insight into how to improve your site's user experience and performance. The basic version to get you started is free and if you want more it starts at € 29.00 per month. 
3.5 Usabilla
Usabilla is globally known for its in-site feedback and emoticon questions to users. Within minutes, you can install a custom feedback button, conduct targeted surveys and start processing results in the intuitive reporting interface. They calculate the price based on your specific needs and the monthly traffic on your websites, apps or emails. But you can start with a free trial to test the tool.
3.6 Loop11
Loop11 allows you to easily define tasks that you want to test on your website. You can test Loop11 on any device that browses the internet. It enables you to identify navigational and usability issues. You have the possibility to mix questions and tasks in any order, and for each task you can set a goal that the user should achieve. All pricing plans of Loop11 include a 14 day free trial. The package for rapid insights starts at $ 69.00 per month.
3.7 RapidUsertests
With RapidUsertests, not only moderated but also unmoderated tests can be realised. The test users can be given tasks to complete on a website or in an app. Their screen is recorded and they speak their thoughts aloud, resulting in videos that provide important insights into the usability and UX of the website or app. The videos can then be analysed in the highly efficient evaluation tool, which was developed specifically for the evaluation of UX tests. By setting time stamps, the most insightful parts of the video can be found again quickly and a prioritisation and tagging system simplifies the management of the notes. The tool also makes it easier to communicate the results, for example by easily sharing video passages via a link and creating a highlight video. Prices start at € 35 per test user.


We hope this overview will help you to choose the right tool for you. Do you have any questions or comments? Please feel free to contact us. Or you didn't get enough and want to have a look at more tools? Check this list.
Do you have a story about remote user studies you'd like to share with our readers? Please submit your guest post. We look forward to featuring it on our blog.